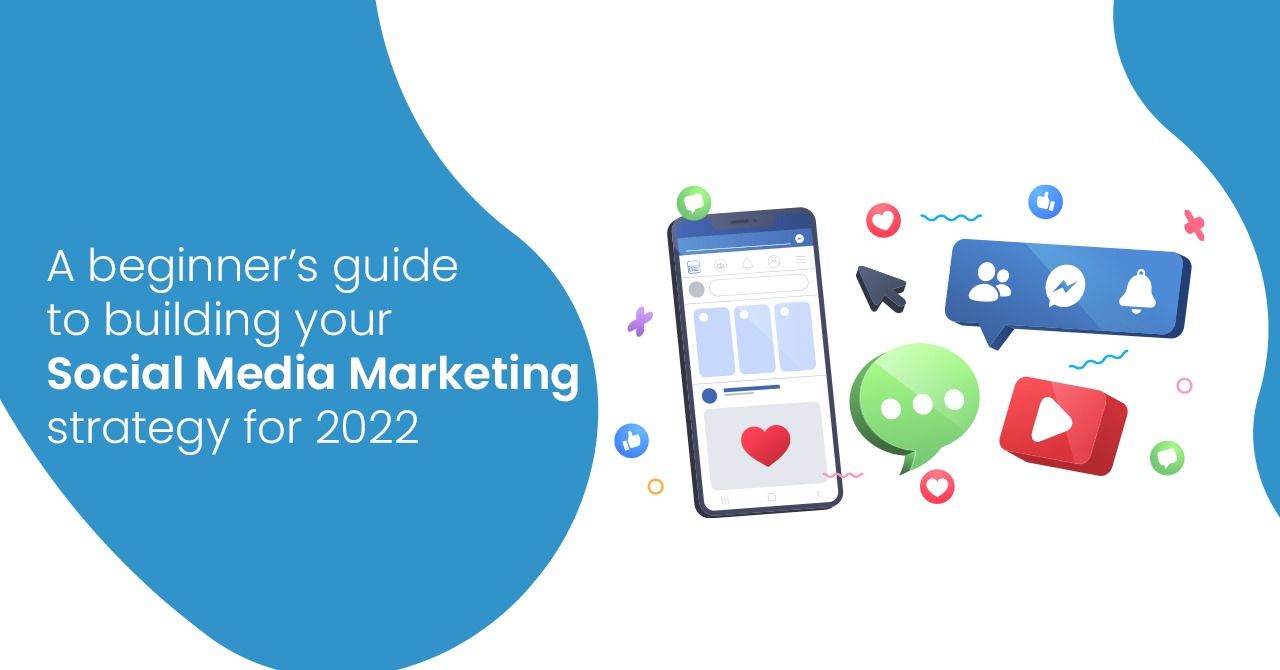 A beginner's guide to building your social media marketing strategy for 2022
If you are planning to create/fine-tune your social media marketing strategy for
2022, now is the perfect time for it. With more content, competition and networks than ever before, a brief strategy will help you to focus on only the efforts that will serve your goals. Social media marketing was not a very big deal in its early stage. But with time and with companies spending more money and with every brand trying to get exposure on the Internet, social media growth strategies have come under the spotlight.
Here is a comprehensive guide to creating a social media marketing plan from
scratch. If you are new to social or want to review your priorities in 2022, this
guide will help you.
What is Social Media Marketing?
It is the process of using social media channels to promote a brand, product, or service. Social media marketing helps companies:
Types of Social Media Platforms
We already know about the five big social media platforms—Facebook, Twitter, YouTube, Instagram and Pinterest.
We also know about some other social media platforms, like Snapchat and TikTok. When they were launched, they were not part of the social media marketing platforms. But slowly, many companies started using these two to gain power over their competitors.
A major reason behind using Snapchat and TikTok, rather than Facebook,
Instagram, or Pinterest is the human psychology aspect. People generally have a short attention span, so brands are using short and captivating videos to hold user attention with strong CTAs.
This works 95% of the times because visuals and videos that are interactive can hold user focus more than posts with just text and image-based. We will talk about that later.
But first, let us see why these social media platforms stand out:
Facebook has over 1.8 billion active users—mostly Generation X and
millennials—best for advertising, brand scalability and business with targeted ads. Facebook is perfect for B2C practices, but we should remember that it maintains pages under categories, like A, B, and C. And if a brand's page falls under category 'C', despite having millions of 'Likes', the page may not have a high percentage of engagement.
Studies also show that 'Validated' Facebook profiles get more active users than profiles/ pages that are not verified. You can find Facebook page verification guidelines online.
Twitter—a 'microblogging' platform—facilitates sending and receiving tweets, or short posts. Over the years, this platform has become more popular with
policymakers, students, politicians and the common people. Some important aspects of Twitter are that it maintains over 206 million active daily users; it is the best microblogging site till date; it impacts B2C and B2B industries; it is best for news media, customer service, public relations, game developers, etc.
Instagram is a free, social media network, especially a photo-sharing application. Some important features of Instagram are: It has over 1 Billion active monthly users; after Facebook acquired Instagram, the user count has grown multifold. It is best for Brands, Advertising and User Generated Content; Majority of Instagram user-base comprise millennials
Content Marketing role in Social Media Communities
For marketers, 'captivating' and 'audience' hold totally different meanings as opposed to music artistes and other people in a similar niche. The second category is meant to retain the audience's attention for entertainment, but marketing agencies and brands have a totally different plan.
For them holding audience through social media marketing strategies is:
All of us get very excited whenever brands, entrepreneurs and start-ups start any marketing campaign on social media. But, these are not always able to bring in the results, or users that were expected before the start of a particular campaign. Basically, it is about the content type that you put forth through your social media profiles and the choice of social media that matters because you have to choose the right content and platform that aligns with your kind of business.
How to Avoid Disparity in Content Rollout
It is important to keep in mind the disparity factor of the content while rolling it out via social media profiles. Marketers, especially new to the industry, make the mistake of using different types of filters that do not match the brand's identity. So, careful selection of content, proper images along with schedules help a brand match its Instagram profile with Facebook feeds and vice versa.
Take the example of Frye. It is doing the same thing as other social media platforms—trying to move forward with their social media marketing campaigns—but with a definite view of matching the content with the brand's theme.
What is the Best Content for Your Audience?
The nature of your business will decide this, followed by a detailed review of the demographics of your audience—age groups, user preferences along with the best time to release the content in a day. Besides, you should re-check the type of social media platform for building your  marketing strategy. A recent survey on the type of content that gets the most attention on social media says, nearly 74% of people like visual content more than plain text feeds.
Choose one for the best results:
Text-Based Content: These are best for attracting people looking to engage with a brand through real-time stories; humor posts; important brand-related updates, reviews and testimonials by customer
Image-Based Content: These have great impacts. But, when they also have text overlay, they push forward a brands' message with greater ease.
Video Content: Videos can create a chain of effects in short bursts. Snapchat and TikTok do not just have powerful video content strategies, but also have content that is to the point, with a specific call to action.
Growing Your Social Media Target Audience
A surge in social media audience growth is the main goal behind any social media marketing strategy now. As more people follow your digital footprints, the chances of engaging prospects become high while converting some of the leads into sales. Some audience growth tactics for social media marketing & advertisement experts:
1. Social Media User Demographics
When you run ads on Facebook or Instagram, you can pick a region-specific audience for them. Advertisers on Facebook can work with audience demographic settings via the Facebook Analytics Dashboard panel. If your brand or service is for a certain audience range use this tool to save money on paid social media campaigns and a higher Conversion Rate Optimization (CRO).
2. Multi-Channel Campaigns to Support Brand Strategy
Brands that are hyperactive use a multi-channel approach for marketing campaigns. If you have dedicated funds to run paid social media campaigns, go for a multi-channel approach through platforms like Facebook, Twitter and Instagram.
3. Manage Content, Organize and Schedule
Larger companies on Facebook and Instagram pages do not keep posting random content all day. They schedule advance posts, but there is a bit of science behind that great content strategy. Like, managing and planning your feed with a social media content calendar. Download a free social media calendar template and customize it accordingly. Use strong tools like Buffer and Plannable, instead of traditional ways to schedule posts, and enjoy a lead over your competitors.
4. Paid Tools are the 'Best'
This is because paid tools offer dedicated resources and features to execute no-fuss social media marketing campaigns. For instance, if you take Canva, the best thing about this tool is, it is not very expensive and is also a great visual imagery tool for social media content creators and designers. Moreover, it drives value with its paid plans with access to
thousands of images, filters, features and much more.
5. Time-Sensitive Content
Often marketers use time-sensitive content to increase audience on social media. Instead of posting ahead of holidays, or special days, think about using time-sensitive stories on social media to make your brand/service more sensitive. For instance, with a certain welfare event or special get-together announcement on social media, mobile food vendors can move near its venue. So, by the end of the day, these business owners are connecting with audiences via social media updates to gather more revenue.